EAAHSC Shows & other activities are FAMILY FRIENDLY with an emphasis on gaining confidence for the young rider, returning adult rider or young horse. Join us and meet new horsey friends or reconnect with old friends.

Our Shows offer a variety of classes including Halter, Showmanship, LeadLine, Walk/Trot, Hunter Pleasure and Over Fences, Western Pleasure, English Pleasure, Native Costume, Halter Handling, Trail, for register Arabian & Half Arabians as well as all other breeds of horses and ponies.

Participate in some or all of our shows and earn points towards our wonderful year end high point awards!


Although our shows are for the Amateur and Junior rider trainers are welcome to bring their students. Trainers are permitted to school horses and riders before the show and during lunch, we just ask you don't coach from the rail.
*Please Note*
Both Horse Owner & Exhibitor Must be Members to Earn Year End High Point Awards.





Membership Chairman:
April Williamson
410-652-8041
aprilchelli@comcast.net


Click Here for Membership Form





Types of Memberships:

Voting:

*Individual - Any individual of any age is entitled to one (1) vote and is eligible for high point awards.



*Family - Any family (including husband, wife, children under 18 or dependent Children age 18 and over living at home) is entitled to two (2) votes and is eligible for high point awards.



* Junior - Any Person eighteen (18) years of age or under is entitled to one vote and is eligible for high point awards.

Non-Voting:

* Associate - Individuals interested in Circuit activities will receive the Circuit Rider but will not be eligible to vote on Council matters; not eligible for high point awards.
RULES & REGULATIONS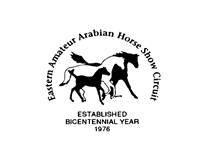 About the club...
The Eastern Amateur Arabian Horse Show Circuit (EAAHSC) was established in 1976, by a small group of dedicated horse people. We offer amateur classes for both the Arabian/Half Arabian as well as All Breed classes. We are a family friendly club with low entry fees and year end awards.